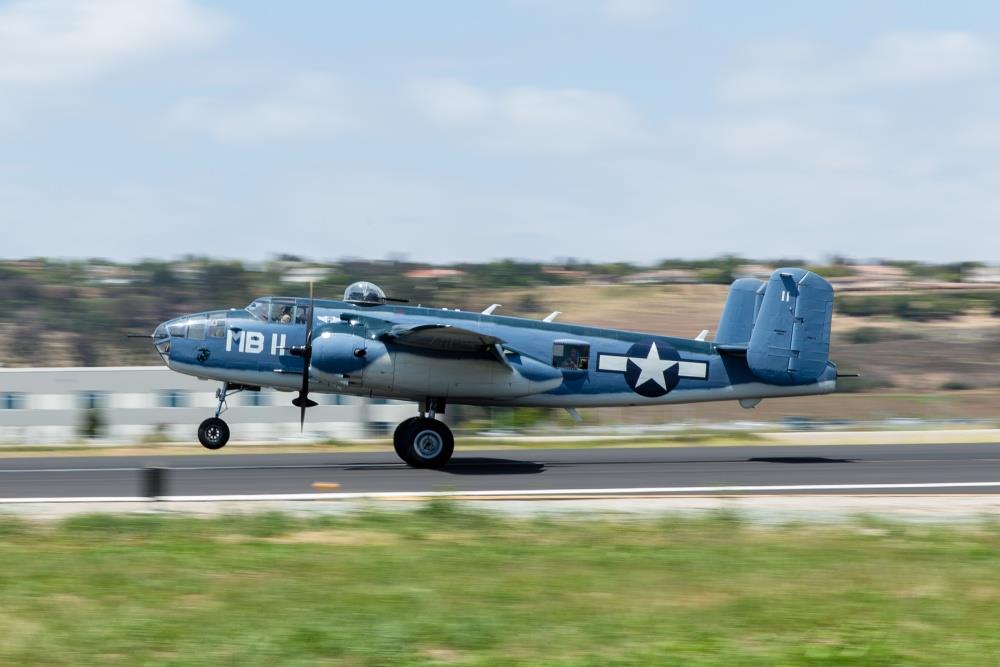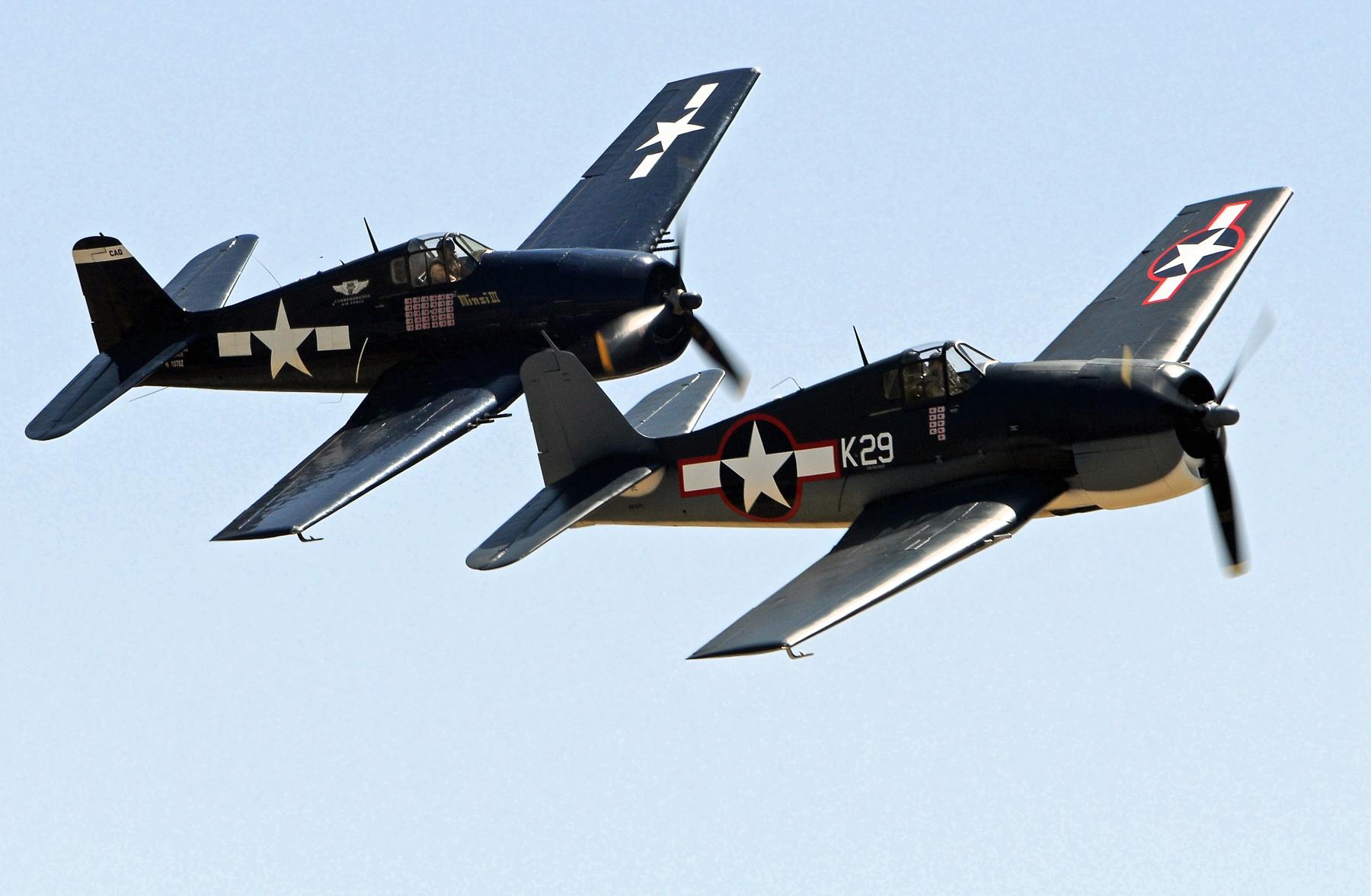 GRUMMAN F6F-5 HELLCAT U.S. NAVY FIGHTER #27354801-66 N1078Z
Crew Chief: John McMahon
Hellcat Crew: Tommy Thompson, Joe Fragala, Martin Mohan, and Mike Fragala
Specifications GRUMMAN-F6F-5-HELLCAT
Origin: Grumman Aircraft Engineering Corporation
Type: Single-seat ship borne fighter – also fighter-bomber and night fighter
Dimensions: Span 42′ 10″ (13.05 meters) |Length 33′ 7″ (10.2 meters) |Height 13′ 1″ (3.99 meters)
Weight (F6F-3): Empty: 9,042 lb (4,101 kg) | Loaded: (clean) 12,186 lb (5,528 kg) |Loaded (maximum) 14,250 lb (6,443 kg)
Engine: Early production: one 2,000 hp Pratt & Whitney R-2800-10 Double Wasp two-row radial From Jan 1944: (final batch of F6F-3s) two-thirds had a 2,200 hp R-2800-10W (water-injection rating).
Armament: 6 x 0.5 inch Browning machine-guns with 400 rounds per gun. (Some F6F-5 and F6F-5N Hellcats had 2 x 20 mm cannon plus 4 x 0.5 inch machine-guns) Under-wing attachments for six rockets Center-section pylons for up to 2,000 lb of bombs
Performance: Maximum speed (clean) 376 mph| Initial climb (typical) 3,240 feet per minute
Service ceiling 37,500 feet |Range 1,090 miles
Mitsubishi A6M3 Zero Model 22s
This Zero is currently one of only five flyable Zeros in the world.
Crew Chief: Trace Eubanks
Zero Crew: Tom Newhard, Ricky Chen
Specifications A6M3 Type 0 Model 22 General characteristics
Crew: 1
Length: 29 ft., 9 in.
Wingspan: 39 ft., 4 in.
Height: 9 ft., 8 in.
Empty weight: 3,984 lbs.
Loaded weight: 5,609 lbs.
Powerplant: 1× Nakajima NKIF Sakae 14 cylinder, air-cooled radial engine, 1,130 hp
Note: Our aircraft has a Pratt & Whitney R1830 enginePerformance
Maximum speed: 388 mph at 19,690 ft.
Range: 1,929 mi.
Service ceiling: 36,250 ft.
Rate of climb: 3,100 ft/min.Armament
Guns:
o 2× 7.7 mm (0.303 in) Type 97 machine guns in the engine cowling
o 2× 20 mm (0.787 in) Type 99 cannons in the wings
The B-25 Mitchell is painted in the colors of a Marine Corps PBJ-1J, named "Semper Fi" with Globe and Anchor painted on the starboard nose.
Crew Chief:
Col. Marc Russell
Specifications Mitchell Bomber B-25
Manufacturer: North American
Power Plant: Two 126kW (1700hp) Wright R-2600-13 18 cylinder two-row radial engines
Maximum speed: 457km/h (284mph)
Service ceiling: 6460m (21,200ft)
Range: 2454km (1525 miles) with a 1452kg (3200lb) bomb load
Weight: Empty 9208kg (20,300lb);
maximum take-off 18,960kg (41,800lb)
Dimensions: wing span 20.60m (67ft 7in)
Length 16.12m (52ft 11in)
Height: 4.82m (15ft 10in)
Armament: three 12.7mm (0.50in) machine
guns, plus an internal and external bomb/
torpedo load of 1361kg (3000lb)